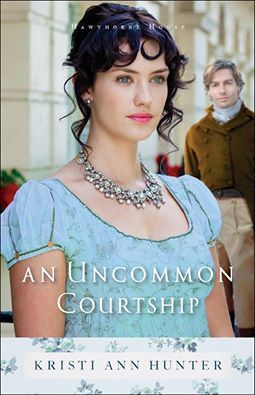 An Uncommon Courtship by Kristi Ann Hunter
Hawthorne House, Book 3
Bethany House, 2017
Trent's musings over breakfast was a charming way to start An Uncommon Courtship. He declares it "one of God's greatest gifts to humanity" and I couldn't have been more delighted with his enjoyment of the start of the day.
Quickly thereafter, readers find out Trent has just married Adelaide, and we follow their journey together. Will they learn to love one another, or will they become strangers who merely live in the same house?
"I take my frivolity very seriously."
Trent's household is run a little differently than the average household, which is quite the shocker for Adelaide. The unconventional dynamics of his household are amusing and humorous. I really enjoyed how the staff was involved in the life of the home, immediately treating Adelaide with familiarity.
Trent and Adelaide struggle to find sure footing in their marriage, but I really enjoyed watching them learn more about one another and develop feelings. One thing I loved was how something was always askew with Adelaide's dress and she never knew how it happened. And Trent's amusement in discovering these mishaps and his pleasure in being the only one to notice them. It made my heart happy.
This is my favorite novel from Kristi Ann Hunter to date. I only wonder now if Griffith will get his own love story….
*I received a copy of this book from the publisher in exchange for my honest review. All thoughts expressed are my own.*