"Ben raised my fists and kissed the back of one hand, then the other, keeping his eyes trained on mine. 'I will always come for you.'"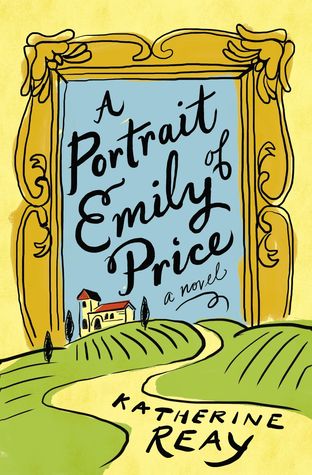 A Portrait of Emily Price by Katherine Reay
Thomas Nelson, 2016
Life and beauty burst off the pages of A Portrait of Emily Price. I felt like I stepped into another world while I read. The characters, the places they visited, and the struggles they face all held authenticity and breathed life. Katherine Reay is a master storyteller.
Some sentences would be so beautiful or thought-provoking that I would read them again a second or third time just to soak it all in. This is one of those books I wanted to read fast because I loved it and needed to know what happened, but at the same time, I wanted to read it slowly so I could savor all the things I loved about it.
I am growing to love stories told in the first-person point of view. It gives you a deeper insight into the main character's mind and makes the impact of their character growth that much stronger. I was thrilled this book was told from Emily's POV exclusively. And the short chapters made it so easy for me to read a 'little bit more' before my lunch break ended or I went to bed each night. The Italian dialogue sprinkled throughout the novel added an extra layer to the story, both making it more beautiful and realistic, while also spotlighting Emily's struggle to belong in her new family.
Let's talk about plot for a moment so you get a snapshot of what this book is about. Emily Price is an art restorer on a short work trip to make repairs to the art that was ruined in a house fire. While in Atlanta, she meets an Italian chef who is visiting from Italy. They have a whirlwind romance, and she follows him home, only to realize that life is complicated and not everything can be so easily fixed; some things must be endured before the beauty can be found.
I was pulled into this novel almost immediately with the Italian family restaurant and the cute tables, and everyone speaking in Italian. From the moment you meet Ben, you will love him. He is adorable and charming. As Emily would say, "This guy had no clue how handsome he was. You could tell by his eyes. Eyes never hide and never lie. His danced with laughter and no awareness at all that I was melting right before him." And with that, I knew I was going to love his character and this story; and this is only page three.  Ben is all heart, and his love for his family is clearly seen through his actions, which are a natural outpouring of who he is.
Italy. I absolutely love that this novel took us to Italy. The place, the atmosphere, the food, and the family all felt uniquely Italian. Emily arrives and is hit with the reality of her new home where everything is foreign and different. As she tries to find her place in Ben's family, life becomes increasingly complicated and difficult. She tries to fit in, but she always seems to bump into someone. Her struggle with belonging is an aspect of this novel I was really interested in, watching her face all this newness and trying to learn and change with her new reality.
"It was everywhere and it was everything I had imagined and I hadn't even touched down yet." – Emily when they were arriving by plane to Italy
Ben's family is the Italian family experience I've always wanted to read about. You meet the loving one, the opinionated one, the untraditional one, the favorite, and the black sheep. Add on an abundance of extended family and friends, and welcome to Ben's world. They are loud and overwhelming. The family dynamics are vibrant and hectic, sometimes confusing, especially as Emily navigates their world. Tension is always present, but you don't understand why, but at the core of the family is a love that runs deep and binds them together.
It was, in a word, delightful.
For fear of this review becoming too long, let me briefly mention a few things I wish I could talk about: Joseph, art, more of Italy, and the sunflowers.
I leave you with one last, somewhat obscure quote. And while you can't understand the weight of this sentence and all it means for this novel, or the impact it had on me in my personal reading experience, I couldn't leave it out. For this, I will always love how Katherine wrote the character this quote is speaking of.
"He left yesterday, to go for you."
*I received a copy of this book from the publisher. All thoughts and opinions I expressed in this review are my own.*
Before you leave!! I got to read A Portrait of Emily Price with some blogger friends on Twitter. I've added a few of my favorites below, but you can search #PofEPral to see our conversation.