Warning: I apologize in advance for any excessive fangirling (because this is the best book ever) and vagueness (to avoid spoilers).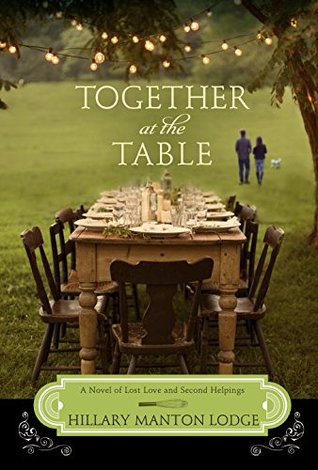 Together at the Table by Hillary Manton Lodge
Two Blue Doors, Book 3
WaterBrook, 2016
I have so many feelings about this book and I just absolutely love it!!! Just needed to establish that.
I had such a great experience reading this book (this series, for that matter) and I can't recommend it highly enough. I read the whole series over a span of three months, and it has been a glorious experience.
Together at the Table starts off with all the things happening right from the first page. I love that Hillary didn't waste any time getting into all the drama that was about to go down.
For those of you who have read the first two novels and know where we left off, let me tell you, you will be gripped the moment you open to the first page. This isn't spoilery (it's the first page), but it opens with Juliette writing an email to Neil. That's all I'll say about that. I'll just leave that tidbit right there. (Are you intrigued?)
Juliette is a character I felt connected to and I felt like I really understood her. I absolutely loved her voice, and it was always her. It never seemed forced or untrue to her character. (Hillary's writing voice is superb.)
Beyond that, I really did enjoy all the characters. They all felt alive to me and so uniquely themselves, which was so much fun, especially when they're all together.
Nico. Neil. Adrian. Caterina. Sophie. Clementine. Sandrine. [I love them all.]
The emotions. All the feelings. I felt like it was me in Juliette's shoes. I felt everything she felt and it was so hard! Her heart is just so hurt when this book starts and I was so in those moments with her.
The food. I want to eat it all. Can I live in the world, especially if it includes all the delicious meals? I was hungry all the time while I was reading this one.
The journey. As a whole, this series has taken me on an adventure I never could have expected. I was surprised and delighted, and all the twists in the story were perfect.
On Twitter, I was part of the read along of this wonderful novel with blogging friends, Rissi and Courtney. And look at the beautiful graphic Rissi created for the occasion:
It's gorgeous! Also, I'm tempted to put all our tweets in this review, but I know that would be a little ridiculous, so I resisted doing so. But if you click here, you can see all the tweets between the three of us: #TogetherAtTheTableRAL
Okay, I'll put one more tweet right here. Because I worked really hard on it and I like it. 🙂
And one last thing before I go. My Italian grandma (who I dearly love) likes to look at my books once in a while when she visits. And since she also likes food, this book was one she stared at for quite some time. I had to share this picture. Adorable, right?
*I was provided a complimentary copy of this novel in exchange for my honest review. All opinions expressed are my own.*