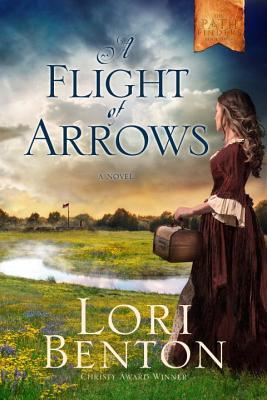 A Flight of Arrows by Lori Benton
The Pathfinders, Book 2
WaterBrook, 2016
Lori Benton has written a masterpiece of a story. In her epic conclusion of The Pathfinders series, Lori explores brokenness, regret, pain, and forgiveness.
I was very pleased that this book started with scenes of Two Hawks and Anna together. I thought I might die if I had to wait very long to see them on the pages together, so I was quite happy it was at the onset of the book. Have I mentioned that they are my favorite characters and relationship in this book? Because THEY ARE. I just love them so much. They embody the true epitome of the forgiveness and relationship born out of the bad decision at the start of this series.
Really, each character's journey is profound in its own way. Good Voice, Stone Thrower, and Two Hawks knowing they have a son and brother but always out of reach. Reginald wrought with guilt of a sin that has never left him. William in rebellion over his entire life being a lie. And Anna caught between it all and loving both families.
"Listen. I am telling you a thing you must understand and believe- that what you feel now is what your Father in Heaven feels for you, waiting and waiting for you to come back to Him, longing to run after you, to search you out. To show you a good path to walk."
And friends. Chapter 44 and Stone Thrower broke my heart. In a million little pieces. Shattered. That's all I will say, but wow.
This is a story of forgiveness, redemption, and love. It reveals how God can turn an ugly thing into something beautiful.
*I received this book in exchange for my honest review. I am on the author's influencer team. All opinions are my own.*