In an effort to catch up on all the books I need to review and start fresh with the new year, today I will be giving mini-reviews on a few books I received for review as a part of the TNZ Fiction Guild.
The Girl From the Train by Irma Joubert
Originally published in Afrikaans, this is Irma Joubert's first novel translated into English. This book follows the journey of Gretl Schmidt from the time she survives a train bombing at the age of six, through young adulthood and all that happens in between.
I found this novel to be fascinating, as it delves into an aspect of World War II that I have never read about before, and Gretl's journey from Poland to South Africa is one wrought with heartache and trauma she must fight to overcome. The translation was a bit hard to read, which made it difficult for me to really get into this story, but I imagine the original story flows much more lyrically.
A Respectable Actress by Dorothy Love
Actress India Hartley is in heaps of trouble when it appears that she has shot and killed her co-star on stage during a performance. She cries innocence, but will anyone believe her?
I found this book to be mysterious and intriguing. India's plight to prove her innocence is no easy feat. With such a public case, how can her lawyer possibly prove that the blame does not lie with his client? Philip's story is more of a secondary role in the novel, but I found myself more interested in what made him tick, and enjoyed discovering his backstory. This wasn't a favorite for me, but is a good book for fans of mysteries.
Whispers in the Reading Room by Shelley Gray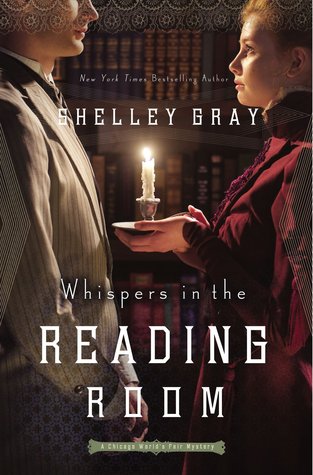 I went into this book thinking it wouldn't be for me — it's set during the Chicago World's Fair, which hasn't interested me in the past. But, was I wrong or what? I ended up loving this book! It pulled me in quickly and I was engaged throughout. I absolutely loved the witty characters and the smart dialogue, as well as the mysterious feeling that not all had ever been revealed. At any given moment, some new twist could surprise me, and I was riveted. (But where are Lydia's glasses on this cover? )
I highly recommend this one and plan to go back and read the first two books in Shelley Gray's Chicago World's Fair Mystery series myself! (And this one made it to my top reads of 2015!)
That's a wrap (I think! I hope!) on 2015 reads I didn't review before the year came to an end!
*I received these books from Thomas Nelson Zondervan Fiction Guild in exchange for my honest review. The opinions expressed are my own.*