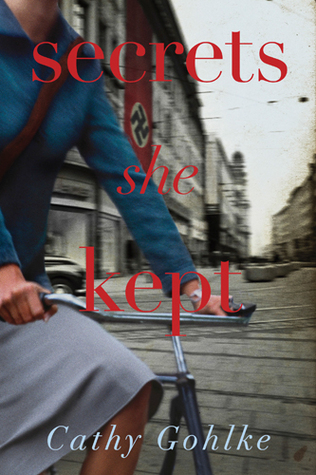 Secrets She Kept by Cathy Gohlke
Tyndale House, 2015
This book is beautiful. Secrets She Kept follows Hannah Sterling as she tries to piece together the clues her late mother, Lieselotte, left behind in order to learn who she really was. Cathy Gohlke seamlessly weaves Lieselotte's story of bravery and persecution during World War II with her daughter's discovery of her life.
Both stories are equally compelling, and constantly left me eager to read more. I would finish a chapter following Hannah and be intensely curious to know what happened next, and then the next chapter would take me back to Lieselotte. Then I would find myself wanting to read more about Lieselotte and it would be time to read about Hannah again. I love that both characters were so intriguing and I was invested in both sides of the story.
This book explores how our circumstances shape us and test our courage in the face of uncertain times. It explores what perseverance and strength in the midst of adversity looks like. And it explores what it means to struggle to understand someone you don't know and grasp for answers.
Secrets She Kept is a powerful novel. It reveals that even in the darkness, faith shines through.
*With thanks to Tyndale Publishers for providing a complimentary copy of this book in exchange for my honest review. All opinions expressed are my own.*
Summary (from Goodreads):
The secret a mother was forbidden to share . . . the consequences a daughter could not redeem—but will risk everything in her attempt.
All her life, Hannah Sterling longed for a close relationship with her estranged mother. Following Lieselotte's death, Hannah unlocks secrets of her mother's mysterious past, including the discovery of a grandfather living in Germany.
Thirty years earlier, Lieselotte's father, ascending the ranks of the Nazi party, demands a marriage for his daughter to help advance his career. But Lieselotte is in love—and her beloved Lukas secretly works against the Reich. How far will her father go to achieve his goal?
Both Hannah's and Lieselotte's stories unfold as Hannah travels to Germany to meet her grandfather, who hides wartime secrets of his own. Longing for connection, yet shaken by all she uncovers, Hannah must decide if she can atone for her family's tragic past, and how their legacy will shape her future.