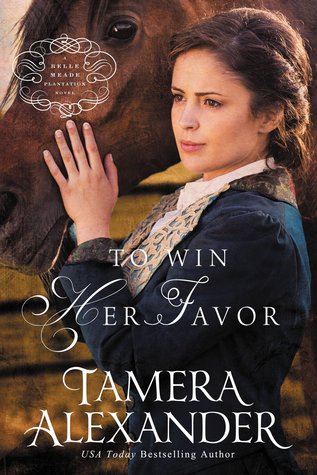 To Win Her Favor by Tamera Alexander
A Belle Meade Plantation Novel, Book 2
Zondervan, 2015
I love a good marriage of convenience story, and To Win Her Favor fits the bill. Filled with conflict, angst, and a slowly burgeoning love, this book is one to read slowly to enjoy the ebb and flow of Maggie and Cullen's relationship.
The thing Maggie wants most in the world is to race Bourbon Belle, her prized horse on which she hangs all her dreams for the future. Her love for her horse is all over the pages of this book. She has put her heart and soul into raising this animal, training it and loving it. And giving Maggie her dream is the one thing Cullen cannot do. In order to protect her, he must deny her what she wants most. Can the rift this causes in their relationship be overcome?
Cullen and Maggie's relationship grows considerably throughout the novel. They are only strangers to one another in the beginning, both offering the other a way out of their current troubles. But once they're married, a life together is forged, for both the good and the bad. Through loss, adversity, and learning to love despite the bad, Maggie and Cullen are given the gift of a fragile love. What I loved most about their relationship was how they grew stronger as a couple when they made decisions to sacrifice for one another, and to trust and respect each other.
Fans of Tamera Alexander will enjoy this new book from the beloved author and the great story that unfolds within its pages.
*Thank you to Zondervan and BookLook Bloggers for providing a complimentary copy of this book in exchange for my honest review. The opinions I have expressed are my own.*
Summary (from the publisher's website):
A gifted rider in a world where ladies never race, Maggie Linden is determined that her horse will become a champion. But the one man who could help her has vowed to stay away from thoroughbred racing forever.
An Irishman far from home, Cullen McGrath left a once prosperous life in England because of a horse racing scandal that nearly ruined him. He's come to Nashville for a fresh start, hoping to buy land and begin farming, all while determined to stay as far away from thoroughbred racing as possible. But starting over proves harder than he'd wagered, especially when Maggie Linden's father makes him an offer he shouldn't accept yet cannot possibly refuse.
Maggie is certain that her mare, Bourbon Belle, can take the top purse in the inaugural Peyton Stakes, the richest race ever run in America. Maggie only needs the chance to prove it. To give her that chance—and to save Linden Downs from being sold to the highest bidder—Maggie's father, aging, yet wily as ever, makes a barter. His agreement includes one tiny, troublesome detail—Maggie must marry a man she's never met. A man she never would have chosen for herself.