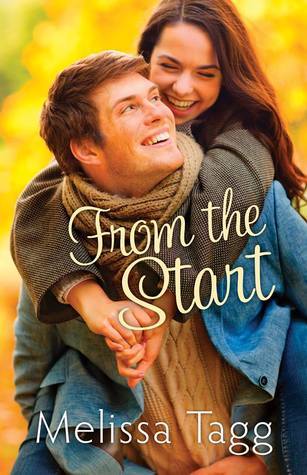 From the Start by Melissa Tagg
Walker Family, Book 1
Bethany House, 2015
If the town of Maple Valley existed in the real world, I would totally have packed my bags already and moved there. From the small-town feel to the quirky community of people who live there and all the eclectic shops, Maple Valley sounds like the place to be. And then I could check out Seth's restaurant, which sounds amazing.
On top of my wish to move to Maple Valley, I also fell in love with the Walker family. Not only did I enjoy following Kate, but I also loved meeting her siblings: Logan, Raegan, and Beckett. And her father, of course. Their big family felt so warm and welcoming and I wanted to be a part of it. Their family home felt like a place where they all belonged no matter what was happening in their individual lives.
As for Kate and Colton, they are two completely lost people looking for direction in their lives. They balance in the uncomfortable place between feeling anxious and skeptical about their futures while searching for a flicker of hope. When their paths intertwine, Kate and Colton start to find direction for their lives, but not without struggles and setbacks along the way. And if they happen to fall in love in the meantime, that's just part of their unexpected journey together.  🙂
Also, Raegan and Bear are adorable and I absolutely can not wait for their story! I'm already loving them!
I always love a good Melissa Tagg novel: cute and fun mixed with honesty that speaks beyond the surface and makes her novels feel personal. I can't wait to see what comes next from her Walker family series!
P.S. Melissa, I know Courtney already has dibs on being your BFF, but I want in. Think you can make room for me, too?  🙂
Summary (from the back cover):
Kate Walker used to believe in true love and happily ever after. While her own love life may have left her brokenhearted, it hasn't kept her from churning out made-for-TV romance movie screenplays…until a major career slump and a longing to do something meaningful send her running back to her hometown of Maple Valley.
Permanently sidelined by an injury, former NFL quarterback Colton Greene is temporarily hiding out in a friend's hometown to avoid the media and the reminders of all he's lost. Maple Valley seems like the perfect place to learn how to adjust to normal life. The only trouble is he's never really done normal before.
While Kate plays things safe and Colton is all about big risks and grand gestures, they both get what it's like to desperately need direction in life. An unexpected project gives them both a chance to jumpstart their new lives, but old wounds and new dreams are hard to ignore. Starting over wasn't part of the plan, but could it be the best thing that's ever happened to them?