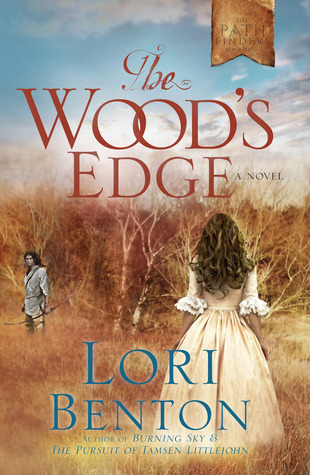 The Wood's Edge by Lori Benton
The Pathfinders, Book 1
WaterBrook, 2015
The Wood's Edge opens with Major Reginald Aubrey holding his newborn son, who has died in his arms. In a moment of weakness, he steals one of the newborn twins another sleeping mother has just given birth to. It is that moment which carries so much weight in the lives of these characters throughout this novel.
I was deeply struck as I watched Reginald make his choice at the onset of The Wood's Edge. And this is the question that has been turning over in my mind since reading this story: Isn't it overwhelming to think about the implications one decision can entail? Not only does his decision change his own life forever, but it also affects multiple people around him: his family, the family he stole from, and every individual they each interact with in their day to day lives. Some are aware of the deceit while others are unknowing, however, the impact of Reginald's choice is far-reaching. It seeps into many lives regardless of their knowledge of what he did. Pain and suffering are the result.
Beyond the powerful and overarching premise of this novel, Anna's story was what I was most drawn to. From her entrance into the Aubrey's lives and the way she is treated by the people she calls family to her transformation into a young woman, I was eager to follow her through these pages. Her meeting with Two Hawks is where I became truly invested in the outcome of this book. I loved watching Anna and Two Hawks' relationship develop and always was eager to read more about them.
Creating a tapestry with her words, Lori brings characters alive and explores the complexities of life lived after one fateful choice. The lives of so many people are changed, and paths cross until a web that is tangled and messy can no longer be ignored.
Lori Benton weaves a story of epic proportions, provoking readers to ask themselves, how far would you go out of love, fear, revenge, and pain? Can lives be healed from the pain that has been endured? How can we learn to extend forgiveness in our brokenness?
*I am an influencer for Lori Benton. Thank you to Lori and WaterBrook for providing a complimentary copy of the novel in exchange for my honest review.*
Come back on Wednesday for a special interview with Lori!