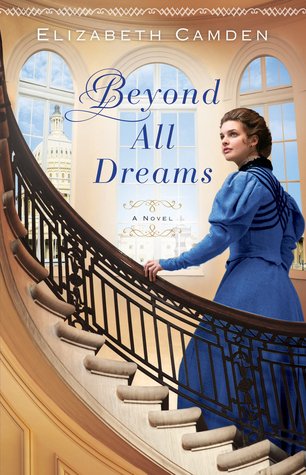 Beyond All Dreams by Elizabeth Camden
Bethany House, 2015
"The room was surrounded by two floors of book stacks that soared all the way to skylights cut into the ceiling. Balconies lined the second and third stories and were open to the bookshelves. Was there anything more inspiring than being able to look up and see oneself surrounded by thousands of books all the way to the ceiling three stories above?" (51)
Anna O'Brien was a lovely character. She's quiet and content with her life as a map librarian at the Library of Congress. Anna seeks the truth and is always striving for accuracies with the maps she works with, so when she comes across a mysterious inconsistency, she can't let it go. As she pursues the truth and the necessity to right a wrong, she falls deeper into secrets that are beyond what she can imagine.
Luke Callahan was a character I struggled with. I really wanted to like him, and he had such promise. He is a passionate man who seeks to follow his dreams and encourage others to follow theirs, and he strives for justice, fairness, and honesty in all he does. I especially loved how he pursued Anna in the first half of the story. But, in the second half of the book, I started to lose any warmth I had for him. There were three distinct moments when I was really disappointed by his behavior, and you know the saying: three strikes and you're out. I just didn't like how he treated Anna.
Nevertheless, as always, Elizabeth Camden has written another compelling novel with sharp, intelligent characters and a vibrant setting rich in history.  She always captures my attention and this novel is no different. As Anna unfolds the mystery she has stumbled upon, will she discover the truth? And if she finds it, will she ever recover?
*I received this book from the publisher in exchange for my honest review.*