I'm just going to say it:
THIS BOOK IS THE BEST!!!!!!
We may only be two weeks into 2015, but I'm pretty sure I already read one of the best books of the year. Jessica Dotta is fantastic and the Price of Privilege series is an absolutely-must read, whatever-you-do-don't-miss-this, what-are-you-waiting-for series!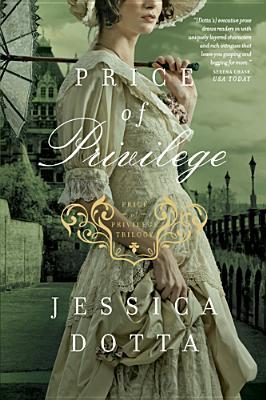 Price of Privilege by Jessica Dotta
Price of Privilege, Book 3
Tyndale House, 2015
Having finally discovered the truth of her birthright, Julia Elliston is determined to outwit Chance Macy at his own game. Holding a secret he'd kill to keep, however, is proving more difficult than she imagined.
Just when Julia thinks she's managed to untangle herself from Macy's clutches, he changes tactics with a risky ploy. As the scandal of the century breaks loose, drawing rooms all over London whisper what so far newspapers have not dared to print: Macy's lost bride is none other than Lord Pierson's daughter–and one of the most controversial cases of marital law ever seen comes before Victorian courts.
Though Julia knows Macy's version of events is another masterful manipulation, public opinion is swaying in his favor. Caught in a web of deceit and lies, armed only with a fledgling faith, Julia must face her fiercest trial yet.
This review is difficult to write because a) it picks up where book two left us and I can't say too much, and b) I have so many FEELINGS!
Price of Privilege is engaging, thrilling, and endlessly intriguing. I had to fight the urge to devour this book in one sitting because I wanted to make it last a little longer. I was desperate to find out what was going to happen next because I could never figure it out. I mean, there were twists in nearly every chapter, so it's impossible to put it down.
Jessica Dotta is a brilliant story teller. She has a magnificent writing talent that has blown me away. This book explores the consequences of decisions. How they affect so many lives and reach further than we can imagine when making those decisions.
When everything is stripped from you, what is left of who you are? This is the question Jessica Dotta grapples with throughout her remarkable series, and what unfolds before your eyes is the most incredible story.
Let's talk characters:
Jameson is the best. I absolutely loved his character. His playful banter with Julia brightened the pages with humor in an otherwise dark story. In his attempts to make light of serious situations, I would find myself laughing along with Julia as she learned to open herself up to love and trust the people who had her best interests at heart.
Speaking of trust, that is one of the most interesting aspects of this series. You are perpetually anxious because you don't know which characters to believe. What are their motives? Are they going to be a traitor? WHO CAN I TRUST?
Edward, oh how I love him. He is fierce and passionate.
And Isaac. I find his character fascinating. He is loyal to a fault and pure in heart. It was so hard to figure him out but what a complex character! I love him, too.
"The way we treat people determines what they become." (332)
And the ending? What a surprise. I felt as if my heart had been ripped out of my chest, thrown on the ground, and stomped all over. I sat in shocked pain and disbelief when I finished. I never saw it coming, but it was fantastic.
I urge you to read this book, but please start at the beginning (otherwise so many secrets will be spoiled!).
*Thank you to the publisher, who provided a complimentary copy of this book in exchange for my honest review.*
For those of you who have read it, let's discuss! Wasn't it everything you ever wanted in a book?