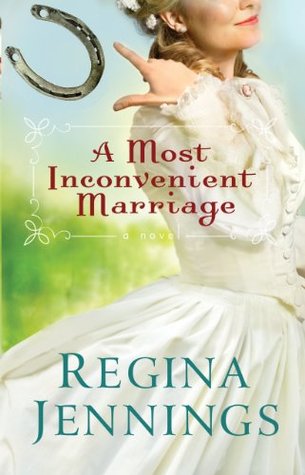 A Most Inconvenient Marriage by Regina Jennings
Bethany House, 2014
My Thoughts:
The premise of A Most Inconvenient Marriage hooked me from the start. A girl marries a dying man, goes home to meet his family after his death, and then he shows up at the house. Only it's not the man she married. Which means…. who did she really marry?
If I was in Abigail's shoes and found out that the Jeremiah Calhoun I married was not actually Jeremiah Calhoun, I would feel confused, lost, and alone. What an awful revelation to realize you married a man and you didn't even know his real name! And let me just say, the real Jeremiah was not pleased to come home and find a woman there claiming to be his wife.
I have to admit, the story was a slow start. I had a hard time getting into this one, but almost halfway through, it started to grow on me. One thing I had a difficult time with was Jeremiah's wishy-washy behavior. He goes back and forth between Abigail and his sweetheart several times. It was frustrating that he couldn't choose one, for I wanted him to fight harder for the woman he truly loved.
As Abigail and Jeremiah learn to tolerate one another, they slowly start to become friends. Their relationship was a strained one, as Abigail is determined to stay and have a home while Jeremiah is equally determined to get rid of her and live his life the way he had planned. But plans don't always work out the way we want them to. Sometimes the surprises cause the best, most significant changes in our lives.
Overall, this was a cute historical fiction novel with a humorous premise.
*I was provided a free copy of this book from the publisher in exchange for my honest review.*
Summary (from the publisher's website):
Abigail Stuart Thought She was Jeremiah Calhoun's Widow.
But Jeremiah Calhoun Is Very Handsome, Very Alive, and Very Perplexed.
Most Inconvenient Indeed.
With few options of her own, nurse Abigail Stuart agrees to marry her patient, a gravely wounded soldier calling himself Jeremiah Calhoun. They arrange a quick ceremony before he dies, giving Abigail the rights to his Ozark farm and giving Jeremiah the peace of knowing someone will care for his ailing sister after he's gone–a practical solution for both of them.
After the war, Abigail fulfills her side of the bargain–until the real Jeremiah Calhoun shows up, injured but definitely alive, and wastes no time in challenging Abigail's story. Abigail is flummoxed. After months of claiming to be his widow, how can she explain that she's never seen this Jeremiah Calhoun before? How can she convince him that she isn't trying to steal his farm? And will she find a way to stay, even though this practical arrangement has turned into a most inconvenient marriage?