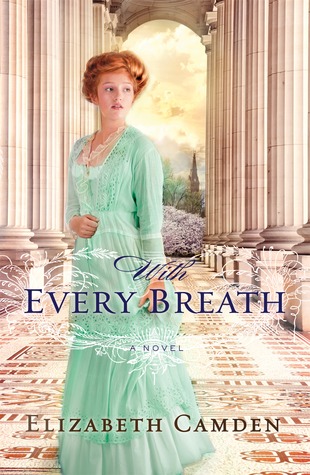 With Every Breath by Elizabeth Camden
Bethany House, 2014
Elizabeth Camden is a fantastic author. You know what my favorite thing about her writing is? She crafts strong, intelligent characters and compelling plots. With Every Breath is exactly that. Set in Washington D.C., her novel features a rich and fast-paced backdrop to an equally interesting story.
Readers first meet Kate and Trevor as high school rivals. Both are smart and strong-willed, which causes them to constantly compete. When they meet again years later and use their intelligence to support a mutual cause, they realize they are stronger together than apart.
Tuberculosis is a major factor in With Every Breath, as Trevor is researching a cure to the disease. With Kate by his side analyzing data on his patients, Trevor is passionate about finding the answer to an illness that inflicts itself on so many people. I loved the medical bent Elizabeth explores in this novel. We are so blessed to live in a time where there are known cures and ways to prevent illnesses that so very little was known about before our time.
The competitive spirit between Trevor and Kate was amusing and enjoyable to read. Kate is quite the fiery character. Trevor has a chilly demeanor, which could be quite frustrating at times, but we do see the occasional glance into his real feelings that he desperately tries to keep below the surface. Kate and Trevor are a match.
I loved the message of this book; especially Trevor's perspective. He had found God's will for his life and beyond a doubt he would dedicate his life to finding a cure for tuberculosis no matter what the cost. Trevor was such a passionate, dedicated character who was unrelenting in his struggle to help others because he was sure it was God's calling for his life.