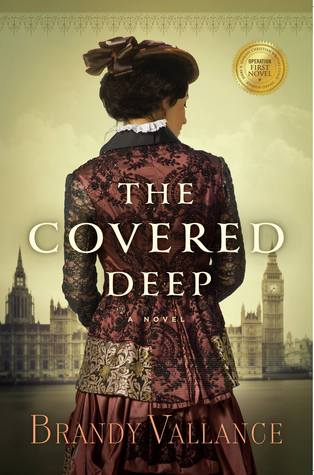 The Covered Deep by Brandy Vallance
Worthy Publishing, 2014
My Thoughts:
The Covered Deep is a skillfully written novel from debut author Brandy Vallance. If you are looking for a fresh story, look no further. With an intricately woven plot and a cast of fascinating characters, this book will take you on an adventure through London and the Holy Land set in the 1800's. I don't think I've ever read anything quite like it.
The characters are an eccentric and diverse group of lucky contest winners who are surprised with the trip of a lifetime by Sir Adrian. However, they don't quite know what they are getting themselves into, for there is far more going on under the surface than what meets the eye. And the reader is as much in the dark as Bianca is to the plotting and treachery going on beyond her innocent imagination.
While the story was interesting and thoroughly mysterious, I didn't completely fall in love with this book. Bianca and Paul were characters that I had a difficult time with; at times I liked them, and then not so much. Unfortunately, they never truly won me over. However, something I would have liked to explore more was the character of Sir Adrian. He is, by far, the most complex and enigmatic character in the story. His game of manipulating people and observing the way they react to intense situations was intriguing. I would have loved to get a better understanding of what made him tick. Why does he play these games and what does he get out of it? Where did his strange fascination for this game he plays originate? And why does he choose to play his game rather than form real connections with others?
Secrets, history, and a twisted social experiment combine to create a story that will impress readers. This promising debut leaves me interested to see what will come next from Brandy Vallance.
*I received a complimentary copy of this book from the publisher through First Look in exchange for my honest review.*
Summary (from the publisher's website):
An incurably romantic bookworm from Appalachia wins a contest and travels to England and the Holy Land in search of the perfect romantic hero. Set in 1877.
Bianca Marshal is holding out for the perfect husband. Finding a man that meets the requirements of her "must-have" list in the foothills of the Appalachian Mountains has proven impossible. Bianca's mama insists that there's no such thing as a perfect true love, and that Bianca's ideal man is pure fiction. On the eve of her twenty-fifth birthday, Bianca discovers a devastating statistic: her chance of marrying is now only eighteen percent. Unwilling to accept spinsterhood, Bianca enters an essay contest that propels her into a whirlwind search for her soulmate. Via the opulence of London and the mysteries of the Holy Land, Bianca's true love will be revealed, but not without a heavy price.