As my birthday is in the month of July, I did a little Twitter experiment. I asked my Twitter friends this question:
"My birthday is in a few days and I want YOUR favorite book! What is your favorite novel?"
I got quite an array of book recommendations from my Twitter friends, some I talk to all the time and others I wish I talked to more often. Are you interested in the answers I got?
The Ones I've Already Read that are Awesome:
Redeeming Love by Francine Rivers
all of Jody Hedlund's books
Les Miserables by Victor Hugo
Dear Mr. Knightley by Katherine Reay
Burning Sky by Lori Benton
Against the Tide by Elizabeth Camden
Jane Eyre by Charlotte Bronte
Silenced by Dani Pettrey
Courting Morrow Little by Laura Frantz
The Pursuit of Tamsen Littlejohn by Lori Benton
The One I'm Most Excited to get my Hands on: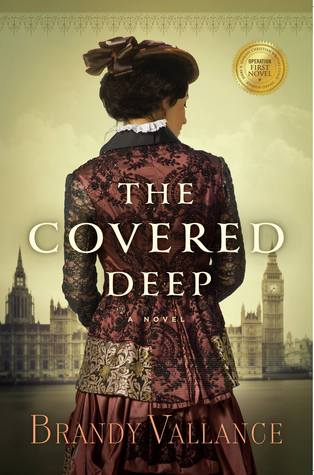 The Covered Deep by Brandy Vallance (I mean, read this synopsis):
Bianca Marshal is an incurably romantic bookworm who's holding out for the perfect husband. She doesn't want much, just that he be (1) a true believer in Jesus Christ (2) devastatingly handsome with a slightly wild look in his eyes (3) brilliant and humorous like Mark Twain (4) a foreigner, possibly a disgruntled duke (5) able to quote Bible verses AND Shakespeare (6) a more than capable kisser, and (7) adore her completely.
Finding a man that meets the requirements of "the list" in the foothills of the Appalachians has proven impossible. Bianca's mama insists that there's no such thing as a perfect true love, and that Bianca's ideal man is pure fiction. On the eve of her twenty-fifth birthday, Bianca discovers a devastating statistic. Her chance of marrying is now only eighteen percent. But the "S" word—spinsterhood—is not something she's willing to accept. She's going to prove the statistics and her mama wrong. Bianca wins an essay contest that propels her into a whirlwind search for the perfect romantic hero. Via the opulence of London and the mysteries of the Holy Land, Bianca's true love will be revealed, but not without a price that might be too heavy to pay. (Summary taken from Brandy Vallance's website)
It releases on October 14, 2014.
The Ones I'm Most  Interested in (should I try them?):
The Blue Castle by L.M. Montgomery
The Outcast by Jolina Perersheim
Somebody Like You by Beth Vogt
Meant to be Mine by Becky Wade
To Know Her by Name by Lori Wick
Many Thanks to my Twitter friends! I had fun discovering new books and hearing your suggestions.
What book would you give your friend for their birthday?