"I nodded to them, feeling trapped and unable to speak my own truths. I studied them, wondering if everyone in this room was caught up in a charade, and we were all only playing our parts." (Chapter 22, page 258)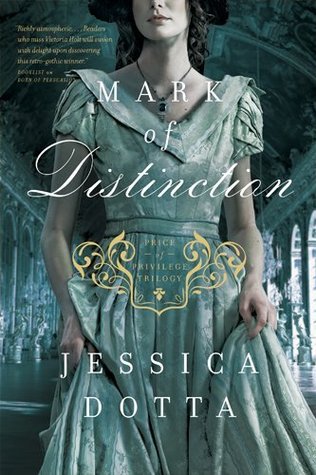 Mark of Distinction by Jessica Dotta
Price of Privilege, Book 2
Tyndale House Publishers, 2014
My Thoughts:
Mark of Distinction picks up where Born of Persuasion left readers. The revelation that Julia is Lord Pierson's daughter changes her life, as she is thrust into the world of the elite, hopelessly trying to navigate her new surroundings. Her life is forever altered as she is placed in a position of great wealth.
In this new and unfamiliar world, Julia struggles through uncertainty, pain, anger, fear, and heartache. Her brokenness is displayed for the reader to watch as she longs to be loved and accepted by her father. She yearns to find where she belongs and has moments of hope despite the fascinating yet unpredictable world of wealth and power.
This book is just as exciting an entertaining as the first, bringing more unexpected twists and introducing new and intriguing characters. Hidden secrets threaten to be exposed as Julia's fragile life is put on display. While the book reveals some answers, plenty of questions replace them and deepen the mystery of Julia's story.
The Charactes: Lord Pierson, Lord Dalry, Mr. Macy, Mr. Forrester, and Edward are all compelling and complex characters. They all leapt off the pages: the good ones, the villains, and the ones you can't quite figure out. There is so much I want to say, yet it would spoil it for readers, so let's just leave it at I WANT MORE. Is the third book really not coming out until next year? Because I don't know if I can wait that long.
Summary (from the publisher's website):
London is said to be the glittering jewel of society, a world unto itself—but to Julia Elliston it is a city of shadows. Her life is swiftly dissolving into scandal. And in Victorian society, even a whisper of scandal—substantiated or not—can be the death of a young woman's reputation.
Now under the watchful eye of Lord Roy Pierson, one of most influential men in England, Julia begrudgingly accepts his protection. But Chance Macy's power is far-reaching as well, and he is eager to assert his claim over her.
Thrust into society as the Emerald Heiress, Julia is the toast of London, a celebrated curiosity. But in reality she's trapped between the clutches of two powerful men. Aided only by a gentleman whose intentions she prays she can trust, Julia must finally take control of her own fate—but outwitting one's foe rarely goes according to plan.